Aug
27
"

We've got to give them a system that's not precious, that they can manipulate. We want it to work effortlessly…My goal is a kind of ephemeral connectivity that you can't take a picture of.
— Frank Gehry on building the extension for Facebook's Palo Alto campus.
Mark Zuckerberg, the world's 28-year old creative technological master will team with 83-year-old starachitect for Facebook's newest addition to their Menlo Park campus.
The design integrates paths that will loop around the campus on the ground level, as well as across the massive green roof, offering a temporary escape to rid the mind of any creative blocks encountered while perfecting the world's most widely used social media platform.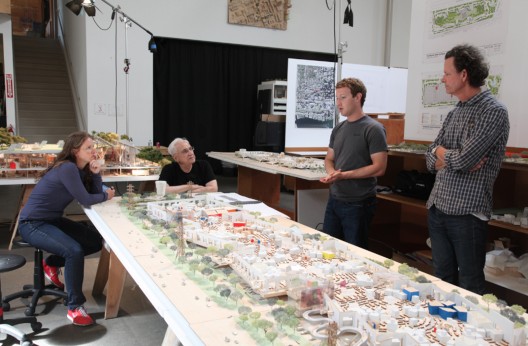 "His (Gehry's) office is a giant warehouse overflowing with handmade, wooden models juxtaposed with state-of-the-art architecture software (some of which is designed by Frank's in-house team).  His teams are filled with people who are unbelievably talented and love what they do.  The whole thing reminded me of Facebook, so that when I met Frank, I already knew he was a perfect fit for us."

— Everett Katigbak, Facebook's Environmental Design Manager.
Construction is slated for 2013.
1 Notes
daretoask posted this